Human, All too Human
from the 1994 English Institute Conference
click here to see conference information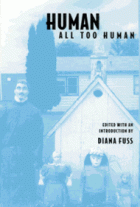 Routledge 1996
I want this book!
Your Price: $62.95 (hardcover)
I want this book!
Your Price: $17.99 (paperback)
| | |
| --- | --- |
| Contributors: |   |
| Nancy Armstrong | City Things: Photography and the Urbanization Process |
| Rey Chow | The Dream of a Butterfly |
| Drucilla Cornell | The Right to Abortion and the Imaginary Domain |
| Marjorie Garber | Heavy Petting |
| Barbara Johnson | Muteness Envy |
| Cora Kaplan | A Heterogeneous Thing: Female Childhood and the Rise of Racial Thinking in Victorian Britain |
| James Kincaid | Producing Erotic Children |
| Harriet Ritvo | Barring the Cross: Miscegenation and Purity in Eighteenth- and Nineteenth-Century Britain |
| David Wills | 1553: Putting a First Foot Forward (Ramus, Wilson, Parè) |
The question of what it means to be human has never before been more difficult and more contested. The human, with a complicated social history that his rarely been examined, remains entrenched in traditional Enlightenment thinking. Human, All Too Human considers how we might radicalize our notion of the human. Can the human be thought outside humanism?
Any rethinking of the human places us immediately inside an ever-widening field of contrasting labels: animate and inanimate, natural and artificial, living and dead, organic and mechanistic. These and other boundary confusions at the frontier of the human are the subject of this volume, as each essay takes up one of three disputed border identities: animals, things or children. Human, All Too Human examines how we explain our interest in anthropomorphism and our fascination with species categorizations. Essays explore what we mean by "things" and how the integrity of the human may already be compromised by them.
The nine essays in this volume all attempt to rethink the category of the human, challenging some of our most cherished cultural classifications. By inviting us to place the tradition's subject of knowledge in the unsettling position of object, these writers interrogate the boundary distinctions that, until now, have exempted the human from the vigilant analysis it so urgently requires.
246 pages
Dimensions: 6 x 9 inches; 229 x 153 mm