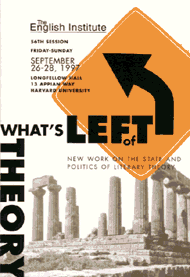 What's Left of Theory:
New Work on the State and Politics of Literary Theory
56th Session
Friday - Sunday
September 26-28, 1997
Longfellow Hall
13 Appian Way
Harvard University
What remains of theory? What is the place of theory along a political spectrum? The 1997 meeting of The English Institute considered whether literary theory has necessary political affiliations, whether the question of politics has displaced theory, whether theory remains as an animating presupposition of politically engaged academic work. Are there spectres of theory that haunt the anti-theoretical bias, and how are we to think the relationship between literary theory and the sphere of political life?
Literature after Post-theory
JOHN GUILLORY, Harvard University
Directed Literature after Post-theory
JONATHAN CULLER, Cornell University
The Literary in Theory
MARJORIE LEVINSON, University of Michigan
Picturing Pleasure: Some Poems by Elizabeth Bishop
JOHN BRENKMAN, CUNY and Baruch College
Extreme Criticism
Breaking the Laws of Theory
KENDALL THOMAS, Columbia University School of Law
Directed Breaking the Laws of Theory
JEFF NUNOKAWA, Princeton University
The Labor of Desire: Wilde and his Discontents
MICHAEL WARNER, Rutgers University
Zones of Privacy, Zones of Theory
M. JACQUI ALEXANDER, New York, New York
Sex and the State: Politics, Desire, and the Lesbian Body
JANET E. HALLEY, Stanford University School of Law
Legal Instantiations of Critical Theory, the Identity Politics of Theory, and the Case of 'Sex Harassment'
Theory Remains
JUDITH BUTLER, University of California, Berkeley
Directed Theory Remains
WILLIAM CONNOLLY, Johns Hopkins University
Secularism and the Return of Metaphysics
MICHAEL BERUBE, University of Illinois, Champaign-Urbana
The Future of Contingency
GAYATRI CHAKRAVORTY SPIVAK, Columbia University
Theory-remains
Conferences Subject:
New Work on the State and Politics of Literary Theory
Past Conferences Date:
Friday, September 26, 1997

to

Sunday, September 28, 1997