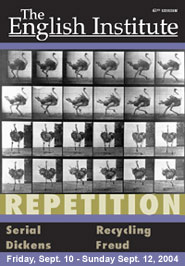 CONFERENCE SCHEDULE

 
Friday September 10
 
9 AM
Registration and Continental Breakfast
9:30 AM
Serial
Eve Kosofsky Sedgwick, CUNY Graduate Center
The Weather in Proust
11 AM
Serial
Jared Gardner, Ohio State University
Reading Out of the Gutter
Lunch at 12:30 PM
2 PM
Dickens
Rosemarie Bodenheimer, Boston College
'There is no "Was" in the Case': Dickens' Present Past
3:30 PM
Dickens
John Bowen, Keele University
Dickens, the Devil and the Deed
5 PM
RECEPTION
Saturday September 11
 
9 AM
Registration and Continental Breakfast
9:30 AM
Serial
Brent Edwards, Rutgers University
Come Out: Race, Music, and Serial Poetics
11 AM
Dickens
Joseph Litvak, Tufts University
Unctuous
Lunch at 12:30 PM
2 PM
Recycling
Meredith McGill, Rutgers University
Echocriticism
3:30 PM
Recycling
Leah Price, Harvard University
Adventures of a Quire
Sunday September 12
 
9 AM
Registration and Continental Breakfast
9:30 AM
Recycling
Peter Stallybrass, University of Pennsylvania
Recycling Texts
11 AM
Roundtable 
Freud on Repetition
Directed by Marjorie Garber, Harvard University

A roundtable discussion on selected readings by Freud**: "Remembering, Repeating and Working-Through" (1914), and "Beyond the Pleasure Principle" sections I, II, and III.
**Roundtable readings are now available online. Once you have registered, please contact us to get the username and password for access.
Freud, "Remebering, Repeating, and Working-Through"
- [high quality (6.5 MB) - owing to the large file size, we recommend that you save this version to your computer before viewing it]
- [medium quality 1.7 MB]
Freud, "Beyond the Pleasure Principle"
Registration information can be viewed here. For more information about the registration process, or about the conference in general, please contact:
Mary Elizabeth Wilkes
Conference Coordinator
12 Quincy Street
Cambridge, MA 02138
617.496.1006
englinst@fas.harvard.edu
Past Conferences Date:
Friday, September 10, 2004

to

Sunday, September 12, 2004