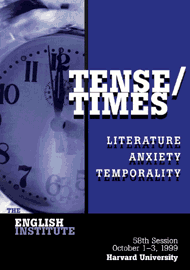 TENSE/TIMES
Literature, Anxiety, Temporality
58th Session
Friday - Sunday
October 1-3, 1999
Longfellow Hall
13 Appian Way
Radcliffe Yard
Harvard University
The 58th annual meeting of The English Institute takes up questions of temporality in a variety of contexts - literature (from the tense of sentences to the time of literary periods), culture (from Medieval catastrophe to electronic cool), and history (from its theoretical impossibility to its continuing necessity). What anxieties are encoded in the times and tenses of writing? What notions of past, present, and future shape contemporary thinking?
Participants were encouraged to re-read Paul de Man's essay "Literary History and Literary Modernity" (in Blindness and Insight) in order to foster a lively discussion among all registrants at the Saturday afternoon Roundtable.
Friday
9:30 a.m.
CATHERINE GALLAGHER, University of California, Berkeley
Undoing: The Plot to End All Periods
11:00 a.m.
STEPHEN G. NICHOLS, Johns Hopkins University
Cycles of Terror: Death as History in Restoration France
2:00 p.m.
JEROME J. MCGANN, University of Virginia
Scholarly Adventures in Computerland
3:30 p.m.*
JAY CLAYTON, Vanderbilt University
Genome Time
5:30 p.m.
Reception
Barker Center-Thompson Room
*please note that Jay Clayton has replaced Wahneema Lubiano for the Friday 3:30 p.m. talk.
Saterday
9:30 a.m.
JENNIFER WICKE, University of Virginia
Sublime Lite: Millennial Anticlimax and the American (End of) Century
11:00 a.m.
LOUISE O. FRADENBURG, University of California, Santa Barbara
Group Time: Catastrophe, Survival, Periodicity
2:00 p.m.
Roundtable: Re-reading DeMan's Literary History and Literary Modernity
JONATHAN ARAC AND BARBARA JOHNSON
3:30 p.m.
ALAN LIU, University of California, Santa Barbara
The Laws of Cool (Information Should Not Mean But Be)
5:00 p.m.
Members Meeting
Sunday
9:30 a.m.
JANE GALLOP, University of Wisconsin, Milwaukee
Econstructing Sisterhood
11:00 a.m.
SAMUEL R. DELANY, State University of New York, Buffalo
Historifying Marginal Practices
12:30 p.m.
Trustees and Supervisors Meeting
Program directors
Jay Clayton, Marianne Hirsch, and Karen Newman.
The Supervising Committee welcomes your ideas for next year's topics and speakers. Please send suggestions to committee members either by e-mail (englinst@fas.harvard.edu) or in writing prior to the beginning of the 1999 conference.
English Institute
Center for Literary & Cultural Studies
Harvard University
12 Quincy Street
Cambridge, MA 02138
Past Conferences Date:
Friday, October 1, 1999

to

Sunday, October 3, 1999